Facebook's New Layout for Business Pages
Some changes are good, and I got to say the changes to layout by Facebook is good for branding. It has an improved call to action and tab layout.
A spokesperson for Facebook said, "We've introduced a new design for Pages on desktop to make it easier for people to learn about and interact with businesses on Facebook, including a new column for tab navigation and a more prominent call-to-action button."
New Look for Layout
The new layout is clean and clear. This is what you want for your customers. It makes navigation and finding things easier.
Businesses can design their cover image without worrying about the profile photo over lapping your main cover image. This new layout is good for your branding. It allows plenty of scope for creativity and self-expression.
According to Facebook the cover photo size for desktop browsers is 828 pixels wide by 315 pixels tall, and for mobile browsers is 640 pixels wide by 360 pixels tall.
Old vs New
Tabs Moved
Facebook's redesign sees the home, about, videos, likes and posts tabs now moved to the left under the profile photo. This makes them more prominent. It would be wise to ensure the information under these tabs is complete, accurate and up to date.
Just a final note here you cannot remove the tabs such as videos and photos. We suggest creating visual content for them. Images and videos are 10 times more likely to be viewed and shared over text only posts. Visual content will boost your brand and showcase what you can do for your customers.
New Sections
Facebook's new layout recognizes not all businesses are the same. So, new sections have been created to support the different kinds of information customers are looking for.
For example, retail stores can display products in the new 'Shop' section. Service providers can demonstrate their skills under the 'Services' section.
Call To Action (CTA)
The call to action button is directly under the cover photo. It is bigger and blue in colour so it stands out from the background. Customers are more likely to click on a more noticeable call to action button. Plus, you can decide what call to action to have Sign up, Contact Us, Shop.
You can create different CTA's for your desktop and mobile.
Remember, your CTA is your aim for where you want your customers to do or where you want them to go next.
New Layout for Mobile Too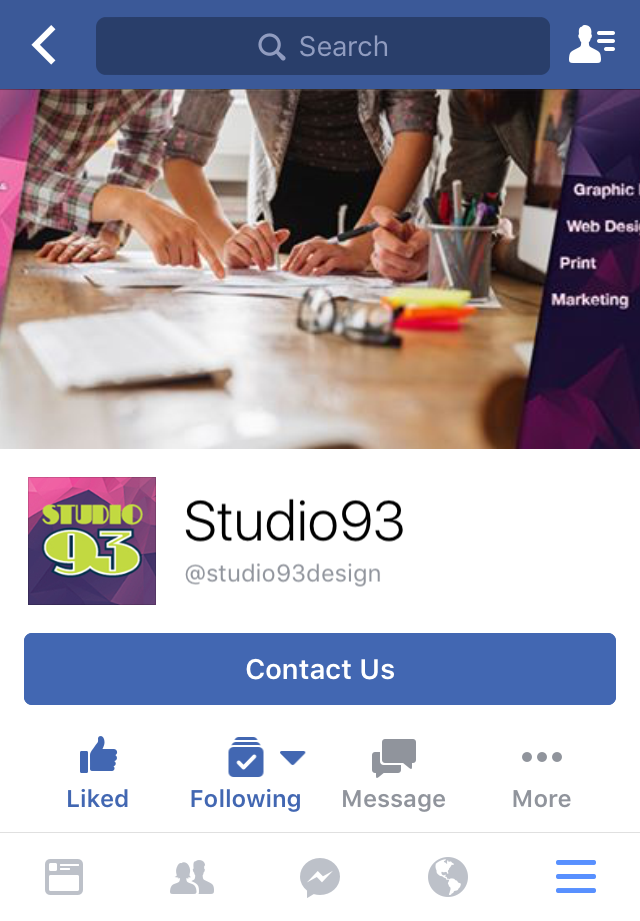 This new business layout isn't just for desktop users. The mobile version is different. It allows an entire tab dedicated to every section. For example, the home page appears in its own tab displaying the main highlights. This means it is far easier to use and customers are able to navigate faster to where they wish to go.
Private Messaging for Customers
Facebook's new messaging feature allows customers to direct message a business. It is a private and convenient method of communication for customers.
It is also great for businesses; they are rewarded for responding quickly to questions. They are given a badge on their profile. This represents to new customers that the business is trustworthy and dedicated to helping their customers.
Conclusion
The improvements to Facebook's business page layout are a welcome change. The improved opportunities for brand visibility and for highlighting sections like 'Shop' and 'Services' to identify the business type are great.  You can choose your call to action and there are rewards for replying to customer queries. Facebook are truly looking at the big picture when it comes to social media marketing for businesses.
Content Manager
at
Studio93
A believer in strong content that evokes emotion. "Content creation shapes our perception of what we read and see. It is not what is said, it is how it is said."
Latest posts by Cat Mooney (see all)