Facebook Video Marketing Tips
Facebook video marketing is smart marketing for small businesses. It's an interactive social media platform, used by billions of people worldwide. Small businesses cannot afford not to use video marketing to boost their brand and increase their bottom-line.
Unlike normal posts for your business, Facebook paid ads allow you to extend options to market your ads to a specific audience, with the guarantee to reach them. So, if you are going to pay for your Facebook video marketing ad, why not do it cleverly?
Tips for your Video Facebook Ads
Select Your Audience
When you create a video, target an audience with a single message. In this way, it is specific and easier to absorb. Facebook help you target an audience using targeting options (e.g. targeting a demographic area, age range, sex, status etc.) in Ads Manager.
Use an Interesting Thumbnail
Users are more likely to click to view a video if looks interesting. Some videos show a static image and do not start to play automatically. In this case, it is recommended to select an interesting clip from the video and display that at your thumbnail.
Schedule Your Videos
With a small business keeping an updated social media marketing presence is time-consuming. You can create videos ahead of your marketing campaigns so they are ready when you are ready to start your particular marketing campaign.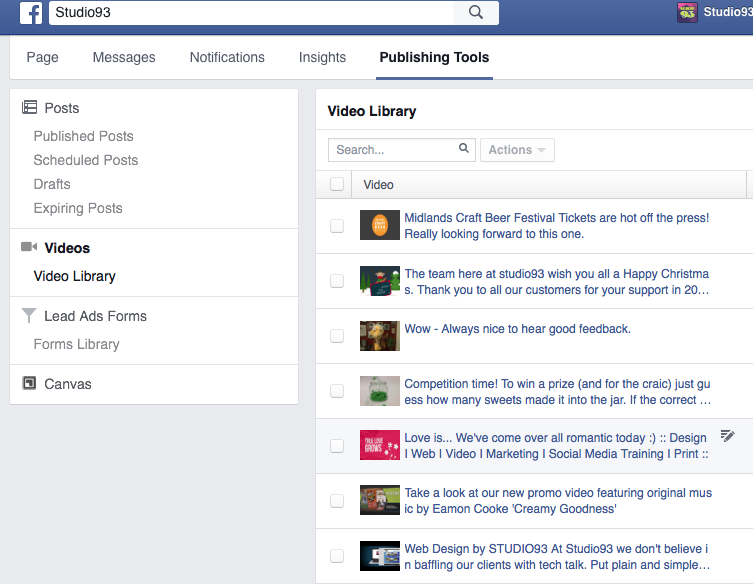 Expiry for Your Videos
It is important to have an expiry date for your videos. You don't want videos from an outdated marketing campaign to keep showing up in your customers feed. Once you set an expiry date Facebook will automatically take it down when it reaches that date.
Caption Your Videos
When your videos appear in your audience's newsfeed they generally play with no sound until clicked on by the user. To encourage interest and interaction apply a caption that peeks interest or alludes to what they might see if they watch it.
Facebook Live
As mentioned in some of our earlier Blog Posts, Live Streaming is an increasingly growing Digital Marketing Trend.Facebook Live is an interactive way for brands to communicate with their customers. It's particularly useful for a product launch or sales event. You simply select Live Video on a new Facebook post; add a description of what is going on and press publish. Your customers can join in on the live action with comments and reactions.
Embedding Facebook Videos
Like YouTube, Facebook now allows to you easily embed videos on web pages. That means if you come across an interesting video on Facebook, you can easily put it on your blog without having to direct your audience to that Facebook page. It is also good for your customers to share and embed your videos, which increases your reach.
Manage Distribution Settings
Facebook allows you to manage and control the distribution of videos by providing different settings. When you add a video to your Page, third-party websites can embed the video by default. If you don't want other people to embed your Page's video, you can prevent embedding.
Secret videos are only visible to people who have a link to the video and on websites where the video has been embedded.
Or you can simply add the video to your newsfeed.
Measure Audience Interaction and Ad Performance
This is extremely useful for your business. You can see the results of your ads effectiveness in Ads Manager. You can assess viewer behaviour patterns like, how long a viewer watched your video and how many times it was watched. This information can help you improve your video creation and measure what worked so your future video ads are always improving their effectiveness.