Are you unsure about how your social media campaigns are performing? If you don't monitor your Instagram insights you won't be able to see what works, what doesn't, and where you need to improve.
An Instagram Business profile includes access to a number of different insights within the app. These insights allow you to see analytics measuring the performance of your content, and better understand your audience.
To access Instagram Insights, go to your profile page and tap the menu symbol in the top right corner (identified by a red circle in the screenshot below).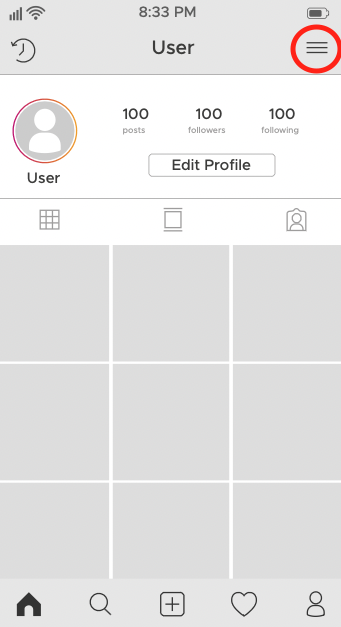 On this list find 'Insights' and tap on it. Instagram Insights is split into the following tabs, with each tab containing different information:
Insights Overview

Accounts Reached
Content Interactions

Your Audience
Content You Shared

Posts
Stories
IGTV Videos
Live Videos
Promotions
Instagram Insights Overview
The Insights Overview tab is divided into two sections: Accounts Reached and Content Interactions.
Accounts Reached  
If you click into this section, you can see insights surrounding the number of unique accounts that your content has reached at least once.  
Reach is the number of unique users that have seen your posts or other content and Impressions are the total number of times that all of your posts have been seen. 
Below Impressions you'll see Profile Activity. This tells you the total number of users who have visited your account profile and the number of people who took an action and tapped your Email button.
Content Interactions 
This is the insights measuring the number of interactions taken by people when they engage with your content. 
Post interactions include Likes, Comments, Saves, and Shares.
Story interactions include Replies and Shares.
IGTV Video interactions include Likes, Comments, Saves, and Shares.

Your Audience
This next tab is Your Audience, and it provides a range of information about your followers, enabling you to gain a deeper understanding of them.
The information you have access to is:
Overall Followers – The number of accounts that followed you minus the number that unfollowed you or deleted their account.  
Top Locations – The locations of your followers based on City and Countries. 
Age Range – The age brackets of your followers. 
Gender – The percentage split of your followers. 
Most Active Times – The most active times of your followers, by hour of the day and days of the week. This is particularly useful for finding out what the best times to share your content are. 

Content You Shared
Under the Content tab you will find Instagram insights relating to individual posts on your profile. This includes photo and video content, Stories, Lives, and even any promotional paid posts you may have published. The Content tab is split into: Posts, Stories, IGTV's, Lives, and Promotions.
Posts
In this section you can get an overview of all your posts and arranged them depending on their format, date, or a number of possible interactions such as likes, reach, saves, shares, follows, profile visits and much more.
Stories
Similar to the Posts section you can view your stories here, but only those that have been posted within the last 30 days or less.
IGTV Videos
Here you can see your previous IGTV Videos. Similar to Posts you can choose to view the Last 7 Days or all the way up to the Last 2 Years. There is a smaller number of metrics available to choose from here.
Live Videos
Again, any Live Videos you created during the selected time period will appear here. Metrics available include Comments, Reach, Peak Concurrent Viewers, and Live Video Interactions.
Promotions
In this last section you can see an overview of the ads you previously created and you can create a new ad from here.

All of these insights are useful for learning more about your target audience and planning your future marketing strategies. You can see what content works, what doesn't, when you should be posting, who your target audience is, and more.
Note: If you've only just switched over to a business Instagram account you won't be able to see insights for the content you shared before this.